OST Research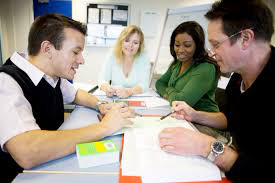 NIOST researchers are leaders in the field. We ask important questions on topics and issues that are critical to out-of-school time programming, quality for all, and investment of resources.
We partner with others to ensure that the right players are part of these valuable inquiries. And we make sure you have access to meaningful findings. The answers we uncover help partners like you to rely on quality data and thoughtful recommendations as you develop and enhance your programs.
Our out-of-school-time research addresses:
Quality and Outcomes

How do you know what makes a high quality program? And what does that really mean to your youth, your staff, and your partners? NIOST has long been a leader in assessing best practices for the field overall, sharing our expertise through our publications, and through comprehensive research and evaluation of individual programs. It's imperative that programs are of the highest quality to ensure the best outcomes for youth engagement and achievement, for staff development and retention, and for successful collaborations.

We are collecting data from afterschool programs in the Wyoming Afterschool Alliance which is helping their staff to build internal capacity to improve quality on issues specific to their individual sites.

STEM in OST

What ways can we incorporate meaningful science learning in afterschool time? Out-of-School Time programs are great spaces for Science, Technology, Engineering, and Math (STEM) programming. We help partners in the field to develop quality STEM opportunities that engage girls, especially. Together, we can ensure that girls' love of STEM continues as they grow and move through high school and beyond, along with the boys'!

Summer Learning & Programming

What can we do to stop the "summer slide" that not only can halt children's learning, it can set them back? We're experts on learning and enrichment. Our work with creative program partners has helped us to identify techniques, practices, and resources that can make summer both fun and intellectually stimulating.

Through program observation, interviews, and the Survey on Afterschool Youth Outcomes, we're working in collaboration with Boston Afterschool and Beyond and three Boston Public Schools to explore components of school-community based organization partnerships for afterschool programming and their potential contributions to positive youth outcomes.
We're studying the Regular AfterZone and AfterZone Summer Scholars programs in Providence, RI, measuring process, academic, and psychosocial impact outcomes among middle school youth enrolled in these programs

Healthy Eating & Active Living

How can we make sure youth have the opportunities to be their healthiest selves? NIOST has led the field in studying how out-of-school time programs can help our children and youth to be just that. Our collaborative research informed the national standards for Healthy Eating and Physical Activity. Our studies and publications show how programs can invest carefully to ensure the best programming.
Research clients include: